The world of silicon carbide
Fiven is a worldwide leading producer of silicon carbide powders. With more than a century of experience, we offer all kinds of standard SiC grains and powders. Furthermore, our R&D centers in Brazil and Norway can create products specifically designed to meet the properties requested by customers.
SiC — Ceramic material with history for demands of the future
Since its industrialization in the late 19th century, silicon carbide has been used as a material of choice in high-performance industrial applications. Optimization in production and raw materials has led to the application of SiC in new and growing industries such as photovoltaic, semiconductor and filtration.

Production of silicon carbide
While alternative production methods have emerged for selected high purity silicon carbide over the last years, the majority of SiC used today is produced using the so-called Acheson process.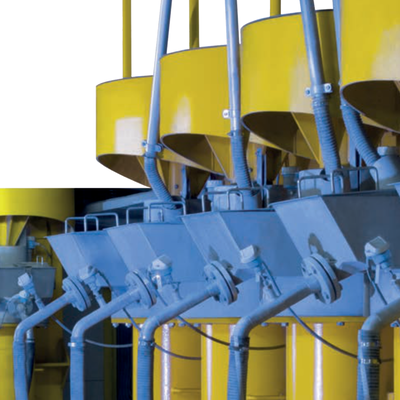 In the production of silicon carbide, a mixture of carbon material (usually petroleum coke) and silica or quartz sand is chemically reacted at high temperatures in an electrically resistive furnace to form SiC. The resulting crude material is further processed by crushing and milling to obtain the correct shape and size of SiC grains. The grains and powders are either washed with water or chemically treated to achieve higher purity of the material.

SiC Markets & Applications
With its unique properties, silicon carbide is a widely used ceramic material in many industries.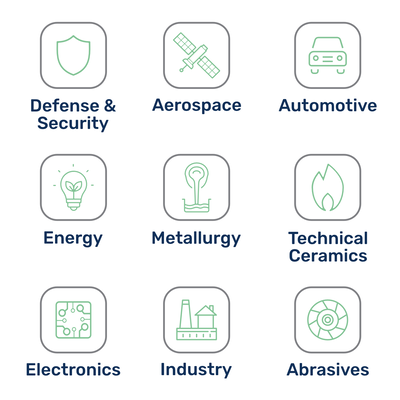 Silicon carbide is a high-performance material suitable for many industries and applications. It offers great mechanical strength, high-temperature resistance, chemical inertness even at high temperature, and can act as a semiconductor.
In recent years, we have streamlined and improved our processes to better serve our customers in applications such as metallurgy, refractories, and abrasives. Moreover, we have successfully launched new products for emerging applications in the field of electronics, passive armor, and energy-efficient or emissions-control technologies.

SIKA® Products
Fiven is offering a full range of black and green silicon carbide grains and powders.
From metallurgically high-quality silicon carbide used in iron foundries and steelworks to reduce additives and energy consumption, to high-purity silicon carbide powders for the electronics and semiconductor industries – Fiven offers solutions with a wide range of products:
Developing special, tailor-made silicon carbide powders together with our customers, makes up a significant portion of the ongoing effort in the global innovation teams. Many products sold by Fiven are customized solutions, meeting specific customer demands.

SiC - The future for power electronics
Silicon carbide could be the key to the future of sustainable energy.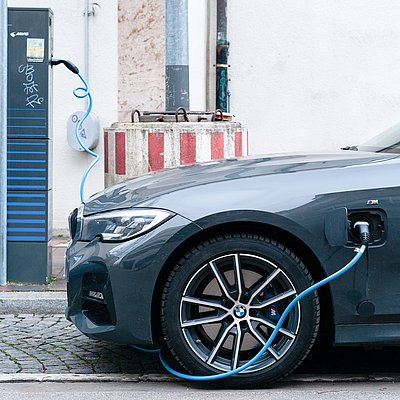 Silicon carbide (SiC) is a growing alternative to silicon-based electronics components, especially in wide bandgap applications. The material offers a unique combination of greater power efficiency, smaller size, lighter weight and lower overall cost of the systems. Growing demand for high- purity silicon carbide powders for the electronics and semiconductor industry has led to the development of Fiven's SIKA e-SiC® material.

Customized silicon carbide grains & powders
Together with our customers, we develop tailored solutions to improve the performance of our clients' products, to improve the efficiency of their manufacturing processes, or to extend the lifetime of their equipment.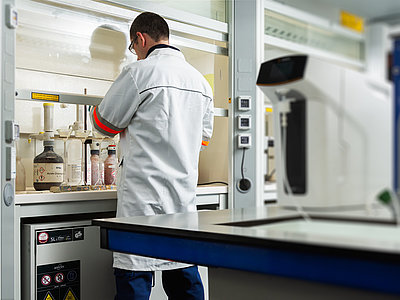 Fiven's R&D centers in Norway and Brazil are dedicating significant research to develop new solutions specifically for customers' needs. This co-development is a form of close partnership to design and create a product mainly intended to meet a market need. Fiven can control several characteristics of its silicon carbide grains and powders such as:
PSD – Particle Size Distribution
Chemistry / Composition
Grain Shape
Surface Properties
Thermal and Electrical Properties
Density and Flow