SIKA® MET
Silicon Carbide for metallurgical applications
SIKA® MET
Silicon Carbide for Metallurgical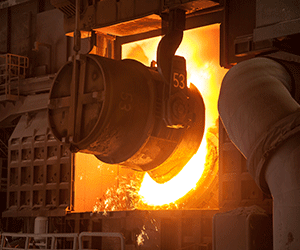 Metallurgical grade silicon carbide is used in iron foundries and in steel mills in the form of loose grains or briquettes:
As an energy booster in steel converters (LD/BOF) due to the exothermic reaction in the process.
As a Si- and C-alloying additive in induction and cupola furnaces for cast iron production.
As an inoculant in iron foundries.
As a deoxidizing agent in ladle furnaces and electric arc furnaces during slag treatment.
Using silicon carbide improves the overall economics of iron and steel production. SIKA® MET provides the necessary alloying elements while reducing the quantities of additives needed and the energy consumption compared to substitute materials such as ferro-silicon.
Usage of SiC in metallurgical applications