A new company with a long tradition
The Fiven company is the result of a recent corporate carve-out of Saint-Gobain's Silicon Carbide business by OpenGate Capital. The experience and history of our business reaches back to over 100 years.
Fiven is the world`s leading producer of Silicon Carbide. Based on long-time experience and industrial expertise we are delighted to provide a wide range of high-quality products combined with excellent services. Together with our customers we are expanding in growing markets by increasing our production and processing capacities. Environmental protection and safety aspects are crucial for us; we continuously develop them by optimizing our production processes.
Chemical inertness at high temperatures, high resistance to abrasion and to thermal shock make Silicon Carbide an attractive material for several refractory applications. Our scale and long-standing experience in the refractory market make us a supplier of choice for customer sensitive to reliability of supply and consistency of quality.
Through its product range, Fiven has been a pioneer in the development of SiC grains and powders for the production of refractory, technical ceramics and composite materials. We offer grains and powders with varying purity levels and particle sizes down to the sub-micron range, which are specifically designed to provide very high density, excellent oxidation resistance, superior hardness and strength, and high thermal shock resistance. In addition to the powders, Fiven also offers ready-to-press (RTP) granules based on fine powders with specific surface areas typically ranging from 10 to 15 m²/g, sintering additives and temporary binders. Special tailor-made Powders and RTP granules are available on request.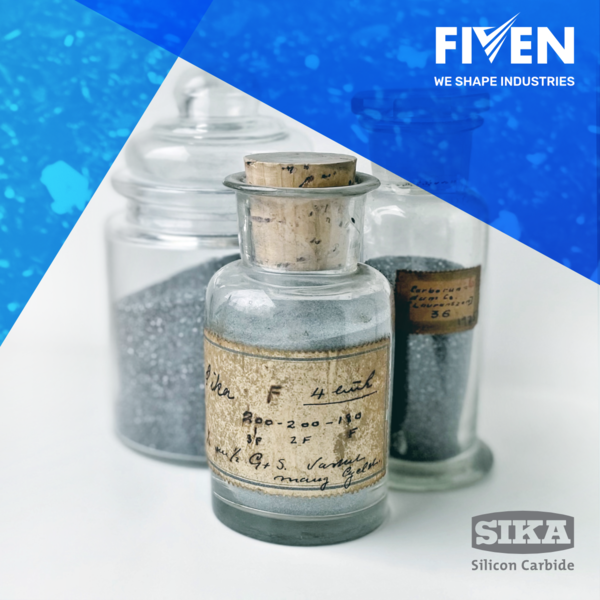 The goals we set for our products and services are to improve the performance of our clients' own products, to improve the efficiency of their manufacturing processes, or to extend the lifetime of their equipment. We intend to achieve this through our "Six Key Values".
Reliability of Supply
Consistency of Quality
Innovation in conjunction with our customers (co-development)
Respect of confidentiality for each customer
Local presence combined with worldwide excellence standards
Respect for the environment, health and safety